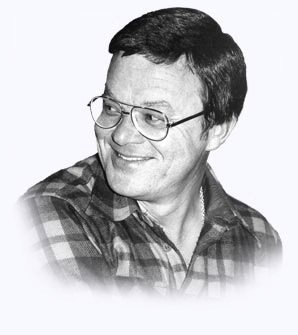 The world of sacred music suffered a tremendous loss with the death on April 13 of renowned composer, organist and choral director, Dale Wood.
Dale Wood was known throughout the musical community as a master of melody, and "the difficult art of simplicity." In addition to his prolific volume of published choral works and hymn tunes, his compositions for handbells, harp, and organ are performed on a regular basis throughout the world. Every Christmas, Easter, and Sunday morning, one can expect to hear his music being sung or played somewhere by small church choirs, renowned organists, symphony orchestras, and choral groups as large and well-known as the Mormon Tabernacle Choir, which has performed and recorded many of his works.
His sparkling, exuberant, and readily-identifiable style caused many to refer to him as "Mr. Joy." Numerous Dale Wood festivals are regularly celebrated with -on one occasion- 3,000 handbell ringers gathered to rejoice in his music.
Dale was for many years Organist and Choirmaster in San Francisco at the Episcopal Church of St. Mary the Virgin, as well as director of the Grace Cathedral Boys' Chorus. He served in a similar capacity in Lutheran churches in Hollywood, and Riverside, California. He was Executive Editor of the Sacred Music Press from 1975-1996.
His beloved community at The Sea Ranch, California, was regularly treated to his musical expertise in the various artistic endeavors he supported and enhanced with his creative talents.
The American Society of Composers, Authors and Publishers (ASCAP) honored Dale Wood annually since 1967 for his "very important contribution towards the creation and development of contemporary American Music."
Dale Wood was a giant in the world of music and his passing leaves an immense void in the hearts and minds of all who knew and loved him.
After a valiant battle against esophageal and lung cancer, Dale died peacefully at his Sea Ranch home. He is survived by his sister, Fern Lazicki and nephews and nieces, Daniel, Stephen, Stephanie and Laurel. He was preceded in death by his brother Walter Wood.
The Board of Regents of California Lutheran University awarded Dale Wood the title of "Exemplar of the University," citing him as "an example of excellence in service and a worthy model of a good and useful life." Contributions in the name of Dale Wood may be made to: California Lutheran University -60 West Olsen Road, Thousand Oaks, California 91360. Or to the American Cancer Society
Many celebrations of his life will undoubtedly be forthcoming and, as information becomes available, will be announced on this web site.
His musical legacy will live on in generations yet to come.
---
Memorial Celebrations
---
August 24, 2003 4 p.m.
A Treasury of Wood Works: A Tribute to Dale Wood
St. Francis of Assisi, San Francisco, California
James Welch, Organist