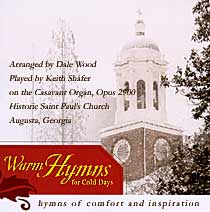 New Release
November 2002
Selections
Sweet Hour of Prayer
Be Thou My Vision
Abide With Me
I Need Thee Every Hour
Blessed Assurance
Just As I Am, Without One Plea
Let Us Break Bread Together
Softly and Tenderly Jesus Is Calling
How Great Thou Art
Jesus Loves Me, This I Know
My Jesus, I Love Thee
Beneath the Cross of Jesus
What a Friend We Have in Jesus
Amazing Grace
He Leadeth Me: O Blessed Thought
My Faith Looks Up to Thee
The King of Love My Shepherd Is
Fairest Lord Jesus
Warm Hymns for Cold Days
Hymns of Comfort and Inspiration
Settings by Dale Wood

Keith Shafer, Organist
Casavant Pipe Organ
Saint Paul's Church, Augusta, Georgia

$18 (includes tax, shipping, and handling)
Order via eMail, telephone, or U.S. Mail
eMail Orders
By Mail: Music Office, Saint Paul's Church
605 Reynolds Street, Augusta, GA 30901
Telephone Orders: (706) 724-2485 (Ext. 215)

This album was recorded on the magnificent organ in historic Saint Paul's Church, Augusta, Georgia. The Casavant organ (Opus 2900) was installed in 1966 as the fifth organ built for the church. It was completely restored and rebuilt by Casavant in 1996.

Keith Shafer, a native of Connecticut, received his education at the Hartt College of Music at the University of Hartford; the College-Conservatory of Music at the University of Cincinnati; and the Meadows School of the Arts at Southern Methodist University in Dallas, Texas.
He has been a finalist in all of the major American organ playing competitions and has appeared in concert throughout the United States. Since 1983 he has been Director of Music and Organist of historic St. Paul's Church in Augusta, Georgia. His music program there is recognized as one of the most innovative in the Episcopal Church, with an annual attendance of more than 10,000 music lovers for Tuesday's Music Live, the most successful noontime concert series in America.
Mr. Shafer has made a number of recordings and CDs which have been heard on the National Public Radio program Pipedreams, Georgia Public Radio's Performance Showcase, and on South Carolina Public Radio.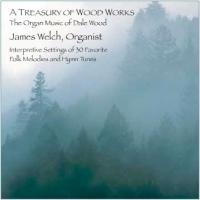 New Release
June 2002
Selections
When Morning Gilds the Skies
Amazing Grace
Lead, Kindly Light
In Christ There Is No East or West
Rock of Ages, Cleft for Me
Shall We Gather at the River?
There is a Happy Land
How Firm a Foundation
Sweet Hour of Prayer
Beneath the Cross of Jesus
Softly and Tenderly, Jesus is Calling
Let the Earth Rejoice!
Pastorale
Prepare the Way, O Zion
Lost in the Night
All Glory, Laud, and Honor
A Way to Calvary Leadeth
Were You There?
When I Survey the Wondrous Cross
That Easter Day With Joy Was Bright
The Good Shepherd
Jesu, Joy of Man's Desiring
Brother James' Air
Praise and Thanksgiving
Be Thou My Vision
I Heard the Voice of Jesus Say
This Joyful Day of Days
Come, O Thou Traveler Unknown
The King of Love My Shepherd Is
If God Himself Be for Me






A Treasury of Wood Works
The Organ Music of Dale Wood
Interpretive Settings of 30 Folk Melodies and Hymn Tunes
James Welch, Organist
Schoenstein Organ
The Church of Saints Peter and Paul
San Francisco, California

To order this recording
http://www.welchorganist.com
About the artist . . .
James Welch performs internationally as a concert organist. He has taught at Santa Clara University and the University of California, Santa Barbara. His doctorate in music is from Stanford University, where he studied with Herbert Nanney. Additional studies have been with Josef Doppelbauer at the Mozarteum in Salzburg, Austria; Jean Langlais in Paris, France; Alexander Schreiner, Salt Lake City, Utah; and John Walker. He serves as organist for St. Mark's Episcopal Church, The Church of Jesus Christ of Latter-day Saints, and Second Church of Christ, Scientist, in Palo Alto, California.
James Welch comments about the music...
"From the first time I came upon Dale Wood's organ music, I have admired his genius for choosing memorable tunes and giving them such imaginative arrangements. I have included a number of my favorite compositions by Dale Wood on previous recordings, including Instrument of Peace, Instrument of Wonder (a Christmas collection), and Around the World in Under 80 Minutes. Considering the wealth of material in his recent publications, I determined that it was time to devote an entire CD to this delightful music.
"What is so captivating about Dale Wood's music? First, in his own themes as well as in his arrangements, he draws from such disparate sources as early American hymns, Victorian hymns, contemporary hymns, gospel songs, spirituals, international folk tunes, and even baroque chorales. Then he infuses into each setting his own joyful rhythmic style and rich harmonic language: some pieces sparkle and dance, while others luxuriate in romantic sound. He sets some hymns in the full gospel style, but just as easily gives majestic hymns a vibrant treatment. Modal tunes from the Old World take on new life; some of his original melodies sound uncannily like ancient folk tunes.
"Above all, it is Dale Wood's affection for these tunes that is so unmistakable. How grateful I am that he has shared this music with us." - James Welch