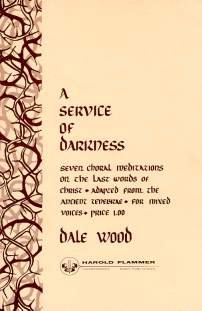 A Service of Darkness by Dale Wood
Performances of this dramatic choral work for Holy Week have become an annual tradition in countless churches throughout the United States and abroad. Published in 1962, it remains one of the most widely performed choral services each year during the Lenten season.
The Service of Darkness commemorates the death of Christ, and it is patterned after the ancient service of Tenebrae. Seven choral meditations are based on the seven last words from the cross. With each meditation, candles in a darkened church are progressively extinguished until only a hidden vigil candle sheds its glow as a symbol of the coming Resurrection.
Harold Flammer, Inc. / A Division of Shawnee Press
SATB: 5005
SAB: 5021
Instrumental parts for harp and strings
are available through the G. Schirmer Rental Department.